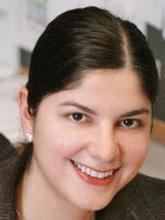 Office
210 Thomas Laboratory
Ileana M. Cristea
Position
Henry L. Hillman Professor of Molecular Biology @ Princeton University
Role
Director of Graduate Studies, Molecular Biology Department @ Princeton University
About
Bio/Description
Ileana Cristea is a Professor in the Department of Molecular Biology at Princeton University. Her laboratory investigates mechanisms of cellular defense during infection with human viruses.
Towards this goal, she has promoted the integration of virology with proteomics and bioinformatics. She has developed methods for studying spatial and temporal virus-host protein interactions, bridging developments in mass spectrometry to important findings in virology. For example, her laboratory has contributed to the emergence of the research field of nuclear DNA sensing in immune response, to uncovering mechanisms underlying organelle remodeling and organelle structure-function relationships during infections, and has discovered sirtuins as broad-spectrum antiviral factors.
Dr. Cristea is the Past-President of the American Human Proteome Organization (US HUPO), the chair of the Biology/Disease-driven Human Proteome Project (B/D-HPP) of HUPO, and the co-chair of the Infectious Disease team of HUPO B/D-HPP. She has taught the summer Proteomics Course at Cold Spring Harbor Laboratory for over ten years, and is Senior Editor for mSystems, Associate Editor for the Journal of Proteome Research and on the Editorial Boards of Molecular Systems Biology and Molecular & Cellular Proteomics. She was recognized with the Bordoli Prize from the British Mass Spectrometry Society (2001), NIDA Avant-Garde Award for HIV/AIDS Research (2008), Human Frontiers Science Program Young Investigator Award (2009), Early Career Award in Mass Spectrometry from ACS (2011), ASMS Research Award (2012), Molecular Cellular Proteomics Lectureship (2013), Mallinckrodt Scholar Award (2015), Discovery Award in Proteomic Sciences at HUPO (2017), and the Princeton University Graduate Mentoring Award (2020).
Curriculum Vitae